Signet Fiber Optic System
Bring natural sunlight into your home with Signet Himawari
The first version of Himawari was developed 1979 by La Forêt Engineering that was found in 1978. Himawari was developed by a highly innovative R&D team led by Dr. Kei Mori who dedicated his life researching on green energy, especially in sunlight energy and energy transmission.
We believe natural resources are the best nutrition for creatures, and energy recycling is good for the long-term environment. This is why Himawari was born. Instead of using electricity, we utilize sunlight to supple power wherever you want. Our process not only saves energy but also provides complete nutrition derived from direct natural sunlight to human beings.
Our Inventor Dr.Kei Mori [1932~1990]
Himawari solar lighting system was invented by the late Dr.Kei Mori-the professor of Keio University's Science and Engineering Department. Himawari is a Japanese word that means "sunflower" a plant that turns its face toward the sun.
The late Dr.Kei Mori had considered that solar lights should be valued and harnessed for all activities in daily life.
He has sensed that there will arise an impending need to save the earth's resources & energy to protect the earth's environment. His vision was that the high-quality natural solar light provided by Himawari solar lighting system will be used –
To prevent global warming
To promote the utilization of natural energy
To reduce global electricity consumption and
To help people save the earth
Laforet Engineering Co., Ltd has inherited the will of the late Dr. Kei Mori – 'To contribute to humankind by bringing the boon of sunlight to many people around the world.'
Bring natural sunlight into your home with Signet Himawari
The SIGNET HIMAWARI system consists of a sunlight collector (lens focusing unit), quartz glass optical fiber devices, an automatic tracking system, and the outer acrylic dome covering all the devices. The outer solid shell – acrylic dome protects all devices. Even when the weather is bad, the outer solid shell offers protection from heavy rains and strong winds. It enhances the product's durability.
Signet Himawari follows a three-step simple process – Signet Himawari system consists of a sunlight collector and optical fiber devices.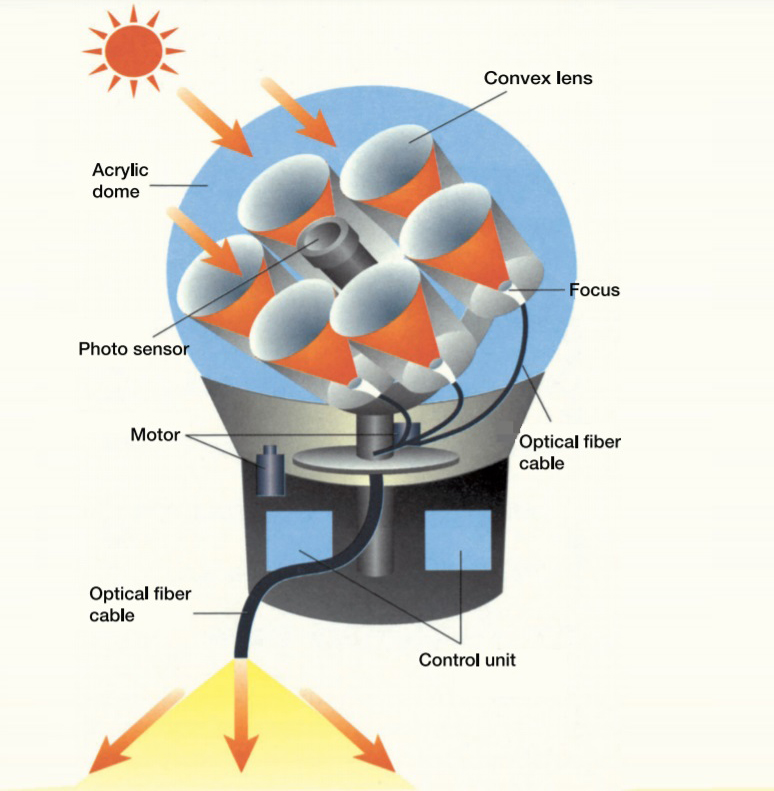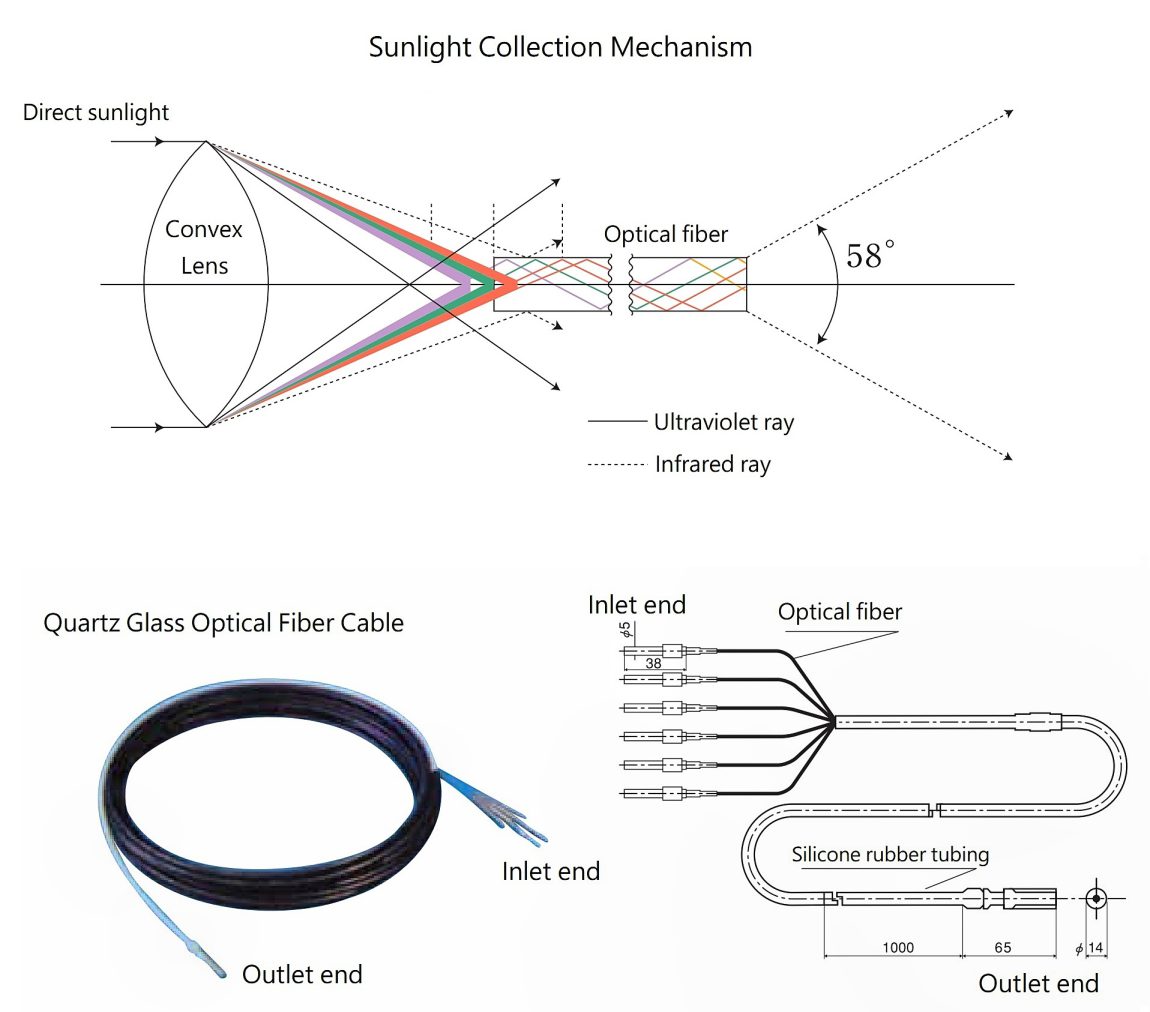 Step 1 – Its outdoor sunlight collector collects sunlight
Step 2 – The sunlight passes through quartz glass optical fibers and is condensed about 10,000 times through the convex lens, then the chromatic aberration occurs, causing different wavelengths of sunlight –ultraviolet, visible, and infrared rays.. The inlet-end of a quartz glass optical fiber cable is positioned at the focal point of the lens, then we make the ultraviolet and infrared rays eliminated.
Step 3 – The final step is Transmission of sunlight by optical fiber cables to the place you want. The last process is using highly pure quartz glass fiber cable to transmit the visible rays into your room. The sunlight enters the cable through the inlet and proceeds through the fiber cable, repeating its full reflection, and is emitted from the outlet of the fiber cable.
Signet Himawari uses a highly pure quartz glass fiber cable which transmits the visible rays with very little attenuation. A cable made of flexible optical fibers can be installed in any new or existing building to transmit sunlight to wherever it is needed.
Therefore, our natural light consists predominantly of visible rays which are best suited for enhancing photosynthesis in plants and also enhancing the color of coral and providing a high-quality environment for fish to keep a regular circadian rhythm in an aquarium .
Why Signet Himawari Is Better Than Other Products
Following are the benefits that Signet Himawari products offer as compared to others in the industry
Compared to regular LED light which carries specific radiations triggered from electronic energy, the natural light of Signet Himawari is directly from real sunlight.
The light spectrum of Signet Himawari system is much more similar to real sunlight, and the UV light is screened out by using the acrylic dome. Therefore, It provides a better indoor environment for people's health, indoor farming, and aquarium. Signet Himawari not only illuminates your life with real sunlight but also let you sunbathe indoors without ultraviolet light.
Signet Himawari system is equipped with an automatic tracking system to accurately detect sunbeams and continuously changes its position from sunrise to sunset.
It provides a stable indoor without suffering constraints imposed by room location, window orientation, and solar altitude.
The acrylic dome enhances the product durability. Lens, sensor and fibers are well protected in the acrylic dome. All the elements are well protected. Therefore, even the weather is bad, the outer solid shell protects all the stuff from heavy rain, strong wind blowing.
SIGNET HIMAWARI has a stable sunlight collector in which it includes a sensor, cables, lens, and other elements.
Compared to other products in this industry, SIGNET HIMAWARl's product failure rate is extremely low over the past years till now. It's definitely good for long term with low-maintenance.
Signet Himawari Solar Light Tracking System:
Follows the path of the Sun in equatorial, mid-latitude, and polar locations.
Stable natural light with automatic tracking and a solar sensor.
Clock mechanism controls the light-focusing lens to aim accurately at the Sun.
Tracks the Sun even in cloudy conditions by calculating its trajectory.
Energy Efficiency:
Uses only 2W power consumption for tracking and following the Sun's direction.
Natural Light Spectrum:
Provides a spectrum similar to natural sunlight.
Filters out harmful ultraviolet rays.
Health and Wellbeing:
Promotes a sense of happiness and better health.
Helps maintain energy levels throughout the day.
Sunlight exposure supports natural melatonin production for better sleep.
Protection:
UV-free natural light protects your skin, furniture, and carpets from color fading.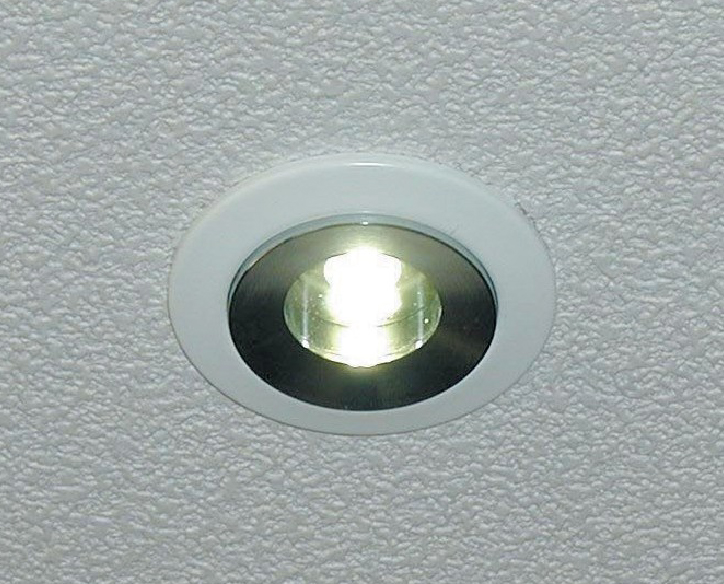 Dimensions : W85mmφ × H73mm
Minimum ceiling clearance : 250mm
Color : white(frame)× chrome(reflector)
Diffusion type is available.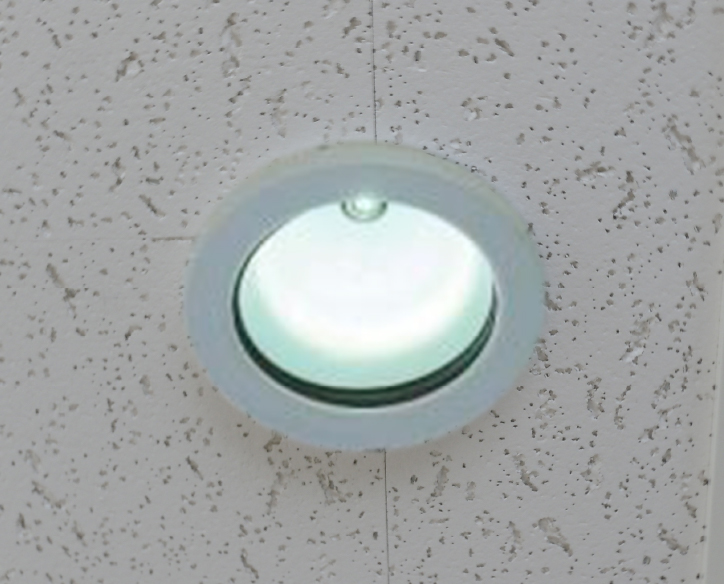 Dimensions : W130mmφ × H90mm
Minimum ceiling clearance : 300mm
Color : white
Diffusion type is available.
changeable type(Illuminated diameter)is available.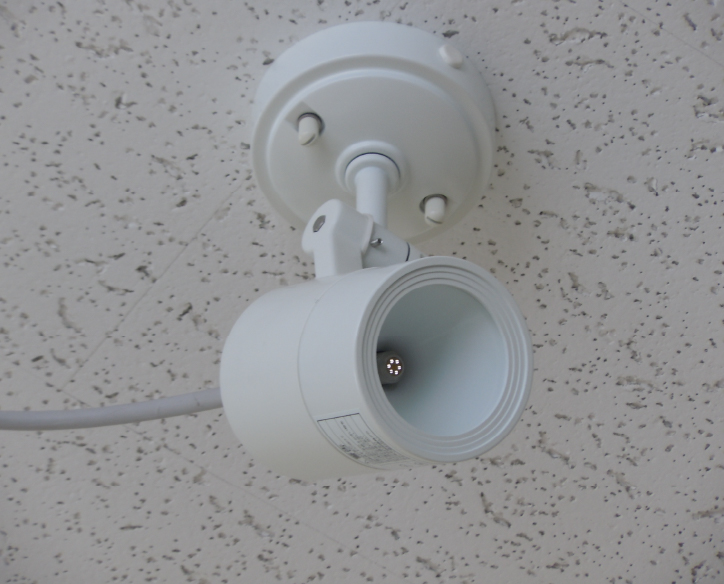 Dimensions : W77mmφ × H185mm
Color : white
Diffusion type is available.
You can setup Signet Himawari at anywhere you want.
Trade name : La Forêt Engineering co., Ltd. . ( Mori building Group )
Address : Roppongi Annex 7F 6 7 6 Roppongi, Minato ku, Tokyo, Japan
Established : December 6, 1991
Founded : May 1978
Capital Stock : 100,000,000 Yen
Shareholders : Moriiso.Co., Ltd. ( Mori building Group ). Arisawa Mfg. Co., Ltd.
Research and development, manufacture, and distribution of solar lighting systems.
Research and development, manufacture, and distribution of optical fiber lighting.
Engineering of various kinds of solar energy utilization systems.
Our Inventor Dr.Kei Mori [1932~1990]
Himawari solar lighting system was invented by the late Dr.Kei Mori-the professor of Keio University's Science and Engineering Department. Himawari is a Japanese word that means "sunflower" a plant that turns its face toward the sun.
The late Dr.Kei Mori had considered that solar lights should be valued and harnessed for all activities in daily life.
He has sensed that there will arise an impending need to save the earth's resources & energy to protect the earth's environment. His vision was that the high-quality natural solar light provided by Himawari solar lighting system will be used –
To prevent global warming
To promote the utilization of natural energy
To reduce global electricity consumption and
To help people save the earth
Laforet Engineering Co., Ltd has inherited the will of the late Dr. Kei Mori – 'To contribute to humankind by bringing the boon of sunlight to many people around the world.'